Two friends from high school and I have decided to meet turning 40 head-on and we're going to have a mini reunion in Russia... They'll join me in Moscow and we'll head to Siberia to run the
Lake Baikal Ice (Half) Marathon
on March 4th! Wonder if more friends will join us...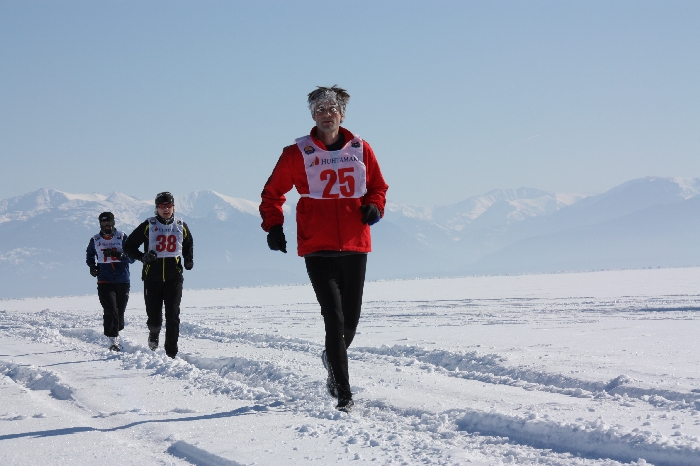 From the Ice Marathon's site:
"The Lake Baikal International Ice Marathon offers competitors the unique opportunity to race across the frozen ice surface of the world's largest, oldest and deepest lake. This extraordinary event takes place in one of the most beautiful places of Lake Baikal, and is based in the small town of Listvyanka, 65 km south of Irkutsk (a major stop-over on the Trans-Siberian route)...
Prior to the start of the race, competitors some years are required to partake in the precautionary ritual of "vodka sprinkling", in order to pacify the spirits of the Great Baikal ( introducing the novel element of starting a marathon with a shot of vodka)...
The course is predominantly flat, but the surface is hard at times and uneven. Although it's mostly covered in a soft layer f snow, there're areas of highly polished ice that create conditions similar to an ice-rink. Wind can add to the already bitingly cold temperature and provide serious resitance to progress across Lake Baikal. Though, often the weather is sunny and with no chill factor one can even get some sun tan.
The utterly featureless landscape gives little or no sense of perspective to competitors. The finish line at the port of Listvyanka can be seen almost from the start line. It is a long, cold, lonely ( if not to count the mobile 8 to 10 feed and drink stands) 42,2 km trail across the baren white landscape, where progress is marked only by checkpoints positioned at 5 km intervals ( with hot drinks, food and, for the brave, some more vodka)."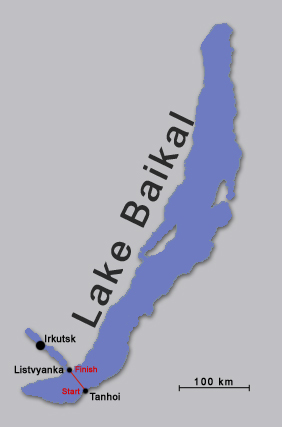 ARE WE NUTS???! But what fun!!!!! And just to clarify, we will do the HALF marathon, not the full one! Egad, I'm not utterly insane!